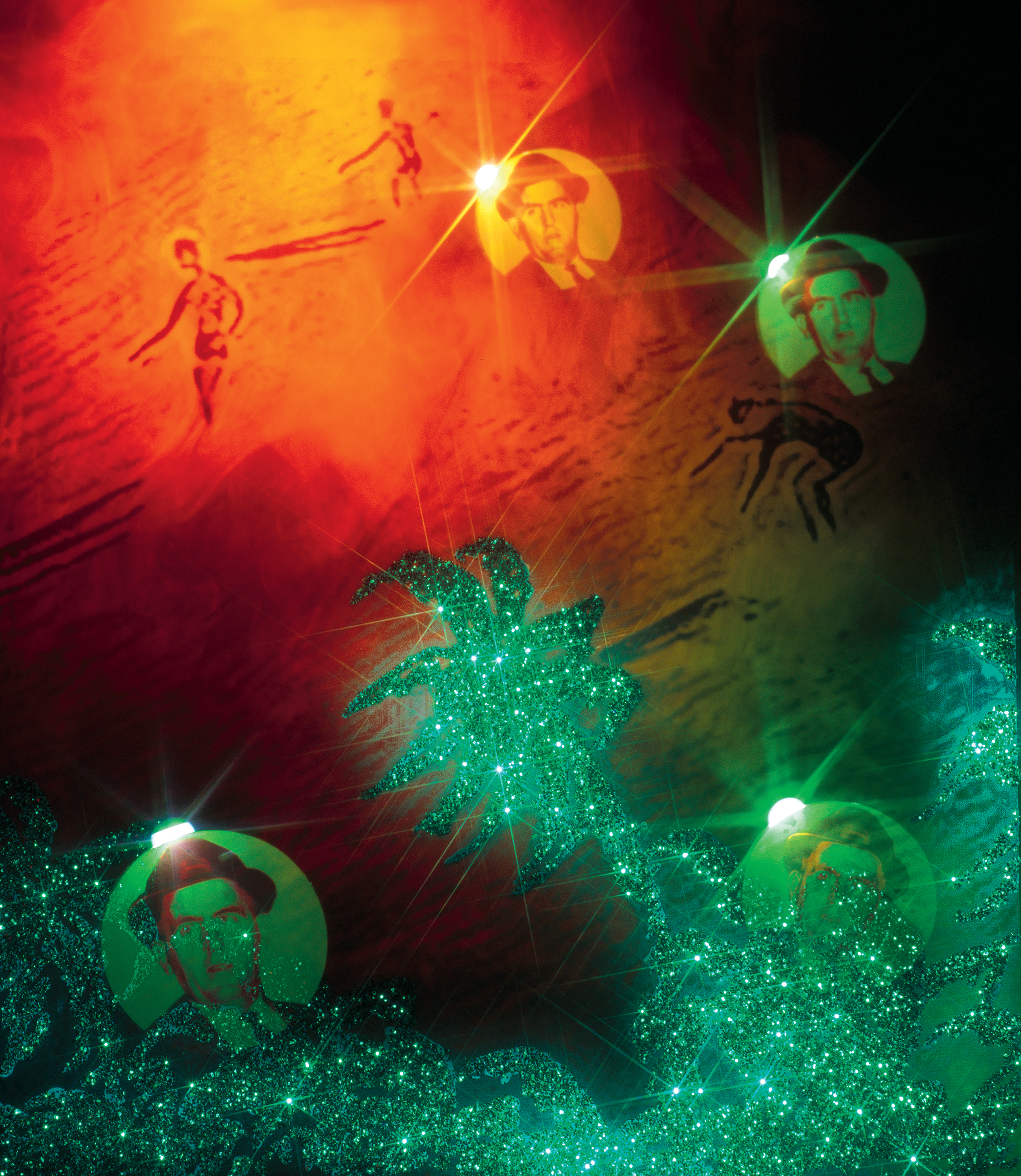 Ulterior playfully ruptures the thin artificial veneer of tropical perfection, reflected in the Queensland Government's tourism slogan, 'Beautiful one day, perfect the next', and looks under its flashy surface to its darker underside.  The motivation behind Ulterior springs from a desire to engage with the waves of cultural loss and political amnesia that Queensland has suffered. Ulterior digs into recent layers of history and brings this to light, embellishing recent folklore created from stories partially reported, and crimes partially solved.
Constructed to create a '70s kitsch 'tropical noire' effect, Ulterior seeks to evoke a colourful and glamorous underworld past. The photographs are multiple exposures of Queensland Fitzgerald-era personalities, projected onto smoke and combined with glitter drawings of tropical patterns derived from men's vintage Hawaiian shirts. 'Chance' is embraced as an active element in the randomness of the smoke forms and the blind exposures of the historical personalities. While many of the identities are people who have held positions of public power and who have strayed from the path of 'good' to one of 'corruption', Ulterior raises questions in relation to the roles that choice and fate may have played in the life paths of these characters.
The people remembered in Ulterior are forgotten ghosts from the past, the details of their lives ever more distant. While many of these characters have been discredited, it is not the intention of this work to further discredit. The identities, although mostly police and politicians, are not selected on the basis of their degree of criminal notoriety. They include: former Police Commissioner Sir Terry Lewis shown with the children's television personality, former Senior Constable Dave Moore who had been charged with indecent dealings with youths, and television puppet offsider Agro; police officers Tony Murphy and Glen Hallahan who had been closely associated with Terry Lewis; prostitute and 'whistle-blower', Shirley Brifman; Russ Hinze, former Deputy Premier, Minister for Main Roads, Local Government and Racing; Don Lane, police officer turned Liberal Party Minister for Transport turned National Party Minister in the Coalition split of 1983; 'Mrs X', Judith Callaghan, socialite wife of former Premier Bjelke-Petersen's one time press secretary and Under Secretary to the Department of the Arts, Allen Callaghan.