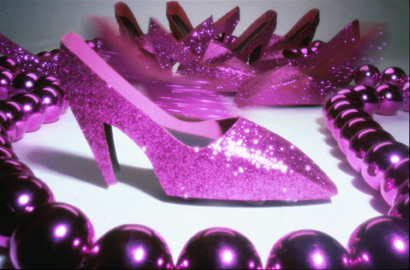 Trance of the Swanky Lump was conceptualized during an artist-in-residency in the Australia Council's Manila Studio and owes part of its inspiration to the phenomenally extensive shoe collection of Imelda Marcos, the madness of Manila traffic and the feudal extremes of rich and poor in Manila. Trance of the Swanky Lump focussed on commodity and sexual fetish in relation to the position of women in a privileged context. The desire for 'more', manifested as an 'I own therefore I am' attitude, can be seen as the corporate system's most successful colonization of the individual's psyche. Trance of the Swanky Lump questioned the evolving roles of women in the patriarchal corporate world in an era of greater divisions between rich and poor and the breakdown of the institution of marriage.
Trance of the Swanky Lump, like Escape from the Empty Disco and Big Wig & Charger, investigated a fragmented matrix of spatial relationships and posed a tension or connection between dislocated exterior spaces and the gallery context. Trance of the Swanky Lump linked four sites: the downstairs gallery, the fire exit stairs, the Brisbane City Hall foyer and Wallace Bishop jewellery store diagonally opposite the Brisbane City Gallery venue. There were two video projections in the installation. The first was situated in the fire exit encountered just prior to entering the gallery. In this video a young woman is seen, nervously ascending the staircase before she runs out of sight up the fire exit stairs. The second image, which was projected in the designated gallery space, shows edited documentary footage of window shoppers at Wallace Bishop, scrutinizing diamond rings. The gallery's surveillance camera live-linked the more secluded downstairs gallery scene to a monitor in the busy public foyer on the ground floor of the Brisbane City Hall. The two major kinetic components were the sixty magenta glitter motorized stilettos and the mirror diamond. The metre wide rotating mirror diamond operated as the proverbial corporate enticement; the 'carat' that mesmerizes with the allure of power, betrothal and status.
The chaotic crowd of 'bump 'n go' stilettos referred to the hordes of busy career women. After the rise of feminism it became important for women to gain economic independence so that they are no longer reliant on the economic power of their husbands and fathers. The birth of 'the career woman' meant that while women became economically more independent they also had a more direct involvement with the corporate system. Like Cinderella they look for the shoe that fits. In this work mobility, choice and direction are deferred, and instead are replaced by circuitous confusion.